VOLUNTEER OPPORTUNITIES
FRIENDS OF HALEAKALA NATIONAL PARK -
CANCELLED UNTIL FURTHER NOTICE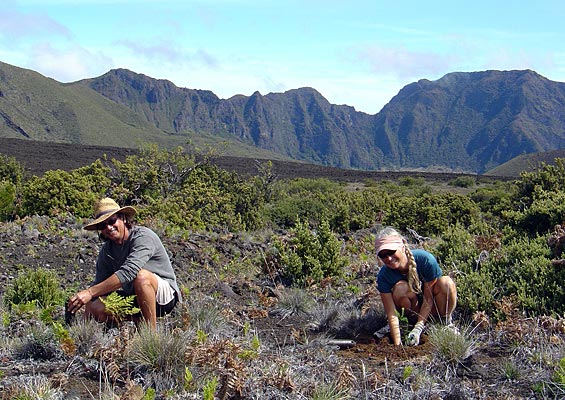 (Matt Wordeman photos)
| | |
| --- | --- |
| | |
| | |
Monthly One-Day Nursery Service Events

The Friends of Haleakala National Park are offering a new one-day service activity at the park's plant nursery in the Haleakala summit district on the first Tuesday of each month.

Volunteers will help park horticulturist Michelle Osgood with jobs involving caring for the rare, endemic plants being propagated, such as transplanting, weeding, cleaning and preparing seeds for storage or planting, and some pot washing. The park recycles pots which have to be carefully cleaned to prevent the spread of plant diseases. There may sometimes be some out planting, but most of the service work is done inside, and participants can drive up to the location of the work.

Those interested should call Mary at 572-1584 for a reservation and to arrange a carpool which will be from Pukalani up to the park at 8:00 am.

Participants should bring water, lunch and snacks, and their own gloves if desired. The park will provide other tools. Wear sturdy shoes, and in case of out planting work, bring a hat and sunscreen.
---

MULTI-DAY SERVICE TRIP SCHEDULE

2019 Dates

Location

Organizers

Nov. 11-13
Holua
Christy
Dec. 8-10
Holua
Andy/Matt
2020 Dates
Location
Organizers
Feb. 9-11
Paliku & Kapalaoa
Tano
Mar. 14-16
Kipahulu
Mike/Andy
Apr. 19-21
Kapalaoa (CANCELLED)
Joani
May 23-25
Paliku (CANCELLED)
Tano / Laura
Jun. 14-16
Holua(CANCELLED)
Christy/Bobbie
Jul. 4-6
Paliku (CANCELLED)
Joani / Denton
Aug. 2-4
Holua (CANCELLED)
Tano / Alison
Sept. 5-7
Paliku
Andy/Bram / Liz
Oct. 10-12
Kipahulu
Christy
Nov 15-17
Holua
Andy/Bram / Liz
Dec. 13-15
Kapalaoa
Joani / Michael


To help slow the spread of Covid-19, all in-person FHNP events are cancelled until further notice.

The NPS will no longer allow service trips to exit Kaupo Gap... we are working to change that.

Kipahulu trips are car camping.
Holua trips are moderately difficult back-packing trips.
Kapalaoa trips are difficult back-packing trips.
Paliku trips are strenuous back-packing trips

Please consider your experience, ability and physical condition when choosing a trip.

HOW TO REGISTER AND JOIN A Multi-Day SERVICE TRIP

Before signing up for a service trip, please create an account (from link in the left column), then log into the account to learn more about the trips and certify your readiness for a service trip. After that, call or email the listed leader for more information and to make reservations to join a trip.

Leader Contact Information

Andy: andy@fhnp.org
Bobbie: bobbie@fhnp.org
Christy: christy@fhnp.org
Joani: joani@fhnp.org (808)669-8385
Liz: liz@fhnp.org
Matt: matt@fhnp.org (808)876-1673
Michael michael@fhnp.org
Mike: mike@fhnp.org
Tano: tano@fhnp.org

For all overnight trips in the Crater, participants need to bring first day's water, sun and rain protection, work gloves, comfortable boots or close-toed walking shoes, sleeping bag, extra socks, breakfasts, lunches, dinner food contributions as coordinated by leader, personal supplies, a flashlight and warm clothing. Volunteers on service trips stay free in the cabins, which are equipped with bunks, firewood, dishes and cooking utensils.
Description of Work
Service Trip Packing List
Service Trip Itinerary

---
---
Friends of Haleakala National Park
P.O. Box 322 ~ Makawao, HI 96768
(808) 876-1673