Latest News
SERVICE TRIP to KAPALAOA CABIN - March 24 - 26
Join the Friends of Haleaka on a service trip over the Prince Kuhio day weekend. Arlene will lead a group of up to 12 participants who will backpack into Kapalaoa cabin on Saturday. They will spend Sunday on service work in the wilderness on a project chosen by the NPS and the trip leader. The group will complete their tasks on Monday, then hike back to the trailhead. There is no fee to participate. You must be fit enough to backpack the approximately 7 miles to and from Kapalaoa. The NPS can loan some backpacking equipment if needed. Please contact Arlene arlene@fhnp.org for more information and to register for the trip. For more information about this and other FHNP events, see fhnp.org
NPS CELEBRATES JUNIOR RANGERS WITH 'OPE'APE'A RESEARCHER
The NPS Junior Ranger Program invites youths to earn a Junior Ranger badge, learn about the endangered 'ope'ape'a (Hawaiian hoary bat) and take a hike with Park staff on Tuesday. There is no charge for this event. The talk about the endangered 'ope'ape'a from 10 to 11 a.m. with bat researcher Kristin Jonasson, and hike on the unique biodiversity of Haleakala from 11 a.m. to noon will take place at Hosmer Grove. In the Kipahulu District, there will be a hike along the Kuloa Point trail fro 10 to 11 a.m with a park ranger. For more information go to www.nps.gov/kids/jrRangers.cfm
INTERNSHIP PROGRAM SEEKS CANDIDATES
Applications are being accepted for the 2018 'Imi i ka Lama Collegiate Internship Program at Haleakala National Park. There will ne six positions available in the fields of endangered wildlife management, facilities management, interpretation, cultural resource management, team leader and visitor/resource protection. Hawaii residents who are attending college are encouraged to apply. Interns are eligible to earn a living allowance. Graduates of the program will also be eligible to to earn an AmeriCorps Education Award. Candidates must be available full time from 7:30 a.m. to 4 p.m. June 11 - Aug. 3. Applications and other required documents must be received by 4 p.m. on March 31. For more information and to obtain an application packet, contact Internship Coordinator Honeygirl Duman at (808) 572-4455 or Bennadette_Duman@nps.gov
Makawao Rodeo Parade - July 1
Would you like to join the NPS and the Friends of Haleakala NP and march in the Makawao Rodeo parade? FHNP logo T-shirts will be available for participants. If you want to march, please contact matt@fhnp.org
Entry Fees have Increased
Fees to enter Haleakala National Park have increased slightly starting June 1. These increases bring Haleakala in line with national rates for similar National Parks. Entry fees for Haleakala are still one of the best deals in the Islands, especially the Tri-Park yearly pass.
The fee for a 3-day vehicle pass is now $25. The price of a yearly Tri-Park pass is now $30. See more at https://www.nps.gov/hale/planyourvisit/fees.htm
Free Weekend Admission and Special Events during National Park Week, April 15-23, 2017
Celebrate the 50th Anniversary of the Kīpahulu Expedition during National Park Week, April 15 through 23, 2017. On Monday, April 17, 2017 at 1pm, take part in the "Kīpahulu Expedition Talk Story" with Dr. Ken Kaneshiro, who was on the original expedition, and Dr. Samuel M. 'Ohukani'ōhi'a Gon, III, from The Nature Conservancy. April 22 and 23, 2017 will be Junior Ranger Weekend, with family activities in both districts. In addition, walks, talks, trivia, and demonstrations will be offered in both districts throughout the week. Activity times and locations will be posted at all visitor centers.

Entrance fees will be waived on weekends; however, visitors wishing to viewing sunrise between 3am and 7am must still make an online sunrise reservation and pay the $1.50 per car reservation fee at recreation.gov. Online sunrise reservations are available until 4pm the day before a planned sunrise visit.

Here is a list of activities at Haleakalā NP during National Park Week:
Kīpahulu District
Kīpahulu Expedition "Talk Story"
On Monday, April 17, 2017 from 1pm-2:30pm, Dr. Ken Kaneshiro, who participated in the 1967 expedition, Dr. Sam Gon, and other Nature Conservancy and park staff will talk story with visitors about the historic expedition and the valley then and now. The Talk Story event will take place near the Kīpahulu Visitor Center.
The 1967 Kīpahulu Expedition, a collaboration between The Nature Conservancy, the National Park Service, U.S. Geological Survey, Bishop Museum, and the University of Hawaii, was the upper Kīpahulu Valley's first large scale, documented scientific exploration. Scientists were led by local guides throughout the remote rainforest. The expedition documented numerous bird, plant, and insect species, including many new to science. The remote valley is one of the last intact native rainforests in Hawai`i. It is protected within Haleakalā National Park as the Kīpahulu Biological Reserve. To view the expedition's scientific report, visit: www.nps.gov/hale/learn/nature/upload/1967-Kīpahulu -Valley-Expedition.pdf
Hana No`eau (Honoring Native Hawaiian Traditions)
April 15-23, 2017 Daily, 1pm-3pm
Staff and partners will offer cultural demonstrations near the visitor center. Stop by and learn coconut weaving, lei making, lauhala weaving, poi pounding, or how to catch fish with a throw net.
Summit District
Daily walks, talks, or other activities will be offered daily. Activity times and locations will be posted at all visitor centers. The following introductory hikes will also be offered:
Monday, April 17, 2017 10am and 11am: Geology 101, at Haleakalā Visitor Center, on the crater rim.
Wednesday, April 19, 2017 10am: Birds 101. Meet at Hosmer Grove Nature Trail. (Take the first left after the summit entrance station. The trail is at the end of this side road).
Both Districts
Junior Ranger Weekend
Saturday, April 22, and Sunday, April 23, 2017
To celebrate Earth Day, earn a junior ranger badge, and learn how to be good caretakers of the park, kids and families can take part in activities about volcanoes, endangered species, and Hawaiian cultural traditions. (Junior ranger booklets are also available year round at any visitor center or at www.nps.gov/hale/learn/kidsyouth/beajuniorranger.htm.)
Saturday, April 22, 2017: Kīpahulu District, by the visitor center, 1pm-3pm
Sunday, April 23, 2017: Summit District, Headquarters Visitor Center (7,000 ft. elevation), 9am-2pm

"This year's National Park Week theme is "Parks 101," said Chief of Interpretation Polly Angelakis. "We hope families will take advantage of our fee free weekends, especially Junior Ranger Weekend. Also, on Monday, April 17, we'll celebrate the 50th anniversary of the Kīpahulu Expedition. This important expedition was the first of its kind in the remote Kīpahulu rainforest and eventually led to this ecosystem and its species being protected."
For more information, please visit www.nps.gov/hale or www.nps.gov/findapark/national-park-week.htm.
Sunrise Viewing - Reservations required starting February 1
Reservations will be required to enter the Haleakala NP summit district starting February 1, 2017. See the Park's website for details. (see the FHNP Links section for the website address).
Park's Commercial-Free Days Set
Commercial-free days have been established for Haleakalā National Park for the remainder of 2016 and early 2017. As specified in the park's Commercial Services Plan, commercial-free days are opportunities for Kanaka Maoli to conduct traditional cultural practices in the park without commercial tours present. The next set of commercial-free dates will be:
Summer solstice (June 21, 2016)

Lolopua, one of the two days commonly known as zenith noon (July 18, 2016)

Start of Makahiki - 1st rites begin on kapu period of Hua (October 11, 2016)

Winter solstice (December 21, 2016)

End of Makahiki - after kapu period of Hua (January 10, 2017)

Summer solstice (June 21, 2017)
Although no commercial tours will be allowed on these days, the park will remain open to all visitors. Regular visitor entrance fees will apply. In determining these commercial-free dates, park officials sought input from Native Hawaiian staff, community members, the Bishop Museum, and the park's kūpuna group.
"We hope the community will continue to take advantage of these commercial-free days and come to their park," said Superintendent Natalie Gates.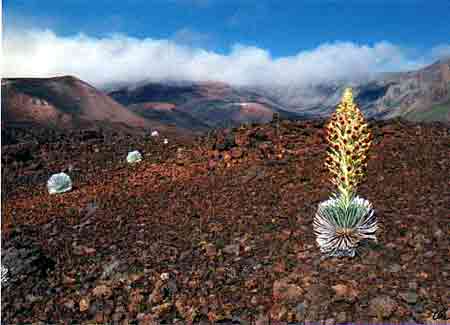 Photo by Christa Matthews
Purpose
The general purpose of the FRIENDS OF HALEAKALA NATIONAL PARK, INC., a Hawai'i non-profit corporation, is to support educational, cultural, research, and service activities relating to the park and its ecosystems.
Mission
The mission of the Friends of Haleakala National Park is to assist the park and the National Park Service to achieve the purposes and goals for which they were established: to preserve Haleakala's unique ecosystems, scenic character, and associated Native Hawaiian cultural and spiritual resources. The Friends also provide educational, inspirational, and recreational opportunities compatible with preserving the many natural, cultural, and spiritual resources of Haleakala so as to leave them unimpaired for the enjoyment of future generations.
Directors & Officers
Matt Wordeman, President
Shannon Wianecki, Vice President
Mele Stokesberry, Secretary
Andy Fox, Director
Mary Santa Maria, Director
Martha E. Martin, Director
Don Reeser, Director

Advisory Board
Mary Evanson
Farley Jacob
Fern Duvall II
Kiope Raymond
---
Friends of Haleakala National Park
P.O. Box 322 ~ Makawao, HI 96768
(808) 876-1673 ~