Retired HNP Superintendent Don Reeser speaks on historic goat control in Hawaii national parks
On Wednesday, March 26, Friends of Haleakala National Park will sponsor a presentation by Don Reeser entitled Historical Feral Animal Control in Hawaii's National Parks. The free presentation will begin at 7:00 pm at Hannibal Tavares Community Center's pool-side Multi-Purpose room in Pukalani. The public is invited, and light refreshments will be served.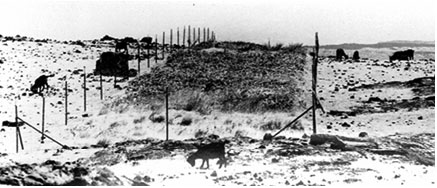 Photo shows an enclosure on the Big Island in 1970 where regeneration was prolific once the goats were kept fenced out.
Today, the need for the elimination of feral goats and pigs from protected natural areas in Hawaii is generally accepted by the public and legislators. Until the 1970s, however, there were virtually zero acres protected in Hawaii Volcanoes and Haleakala national parks, areas established for the purpose of preserving native Hawaiian ecosystems.

Reeser, who served 17 years as Haleakala Park Superintendent and 11 years as Hawaii Volcanoes Chief of Resources Management will tell from his first- hand experiences the political and bureaucratic difficulties in establishing a successful feral animal program that has now become the standard for protecting Hawaii national parks and other natural areas in the state.
Reeser, in his illustrated talk, will tell about large scale goat drives and periodic hunts that did little more than maintain a healthy population which continued to decimate native habitat necessary for the survival of native insects and birds. Not until dividing up the park into manageable fenced areas could effective elimination of these animals be realized.
Funding and implementing such a program proved to be extremely difficult in the face of opposition from hunter organizations and a general public misunderstanding of the impact these animals had on preservation goals. Conservation organizations in Hawaii and nationally played a big role in helping to turn things around.