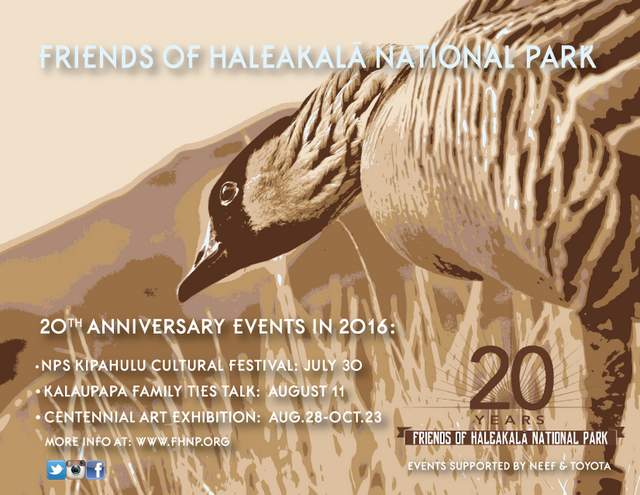 The Restoration of Family Ties - an evening program
Join the Friends of Haleakalā National Park on Thursday, August 11th for "The Restoration of Family Ties," an evening exploring the past and future of Kalaupapa.
Valerie Monson will narrate a slide show of modern-day and historical photos that tell the stories of Ka 'Ohana O Kalaupapa, a group working to reconnect descendants with their ancestors at Kalaupapa.
This year marks the 150th anniversary of a tragic chapter in Hawaiian history. In 1866, the government chose to isolate all individuals showing signs of leprosy (now also called Hansen's disease) on a remote peninsula on north shore of Molokai. Over a century, an estimated 8,000 people were taken from their families and exiled to Kalaupapa. The state of Hawaii finally abolished the isolation policy in 1969. Kalaupapa is now a National Historic Park.
The Ka 'Ohana O Kalaupapa was organized in 2003 at the request of the Kalaupapa community. Members include Kalaupapa residents, family members/descendants, friends and those who support the preservation of this important history. In the past several years, the 'Ohana has helped more than 600 families learn more about their Kalaupapa kupuna.

Valerie Monson is a founding member of the 'Ohana and the current coordinator. She is a former Maui News reporter who has been interviewing and writing about the people of Kalaupapa since 1989.


Thursday, August 11, 2016
7 – 9 pm
Pukalani Community Center Pool-side room
This free public event is part of a series celebrating the Friends of Haleakala National Park's 20th birthday and the National Park Service Centennial.
Supported by NEEF and Toyota
SPECIAL SERVICE TRIPS OFFERED BOTH BEFORE AND AFTER the IUCN WORLD CONSERVATION CONFERENCE
Three day, two night service trips to Paliku and Kapalaoa cabins will be held Aug. 29-31 and Sept. 11-13. For more information and to registers see http://fhnp.org/iucn.htm There is a fee for these trips.
---
Details of other 20th anniversary events will be posted soon. Create an account at FHNP Account to join our e-mail list and be the first to hear.